Cell phones or smartphones, however, you wanna call it they are pretty much everywhere so much so that you could hardly have a meal without someone as asking if they can take a picture of it. Annoying? Yes, a necessity? For sure. The world was already small when the internet was invented, it got even smaller when cell phones became popular. Mobility is a gift, to be able to go on your day and do what you want whenever you want to, without losing access to things that you want or need. As cell phones became smarter, the need to be able to bring our work or fun with us became more important and apps gave us that.


There is an app for just about everything that we need and if you knew where to look you were bound to find one that you never knew you needed. So why not an app of your favorite radio station, how about accessing your favorite radio station in just one tap? No more scanning the airwaves or having to put in your earphones just to get to a radio station. Just make sure you're on data or on wifi, click the icon and that's pretty much it, you get to listen to your radio station on the go. Convenience, is always the biggest selling point when you have an app. It allows your listeners to listen to you anytime, there's no need for them to miss out on their favorite programs and you the DJ or owner can continuously be engaged with them as well. It allows you to touch their lives when they aren't at home or the office sitting in front of their computer.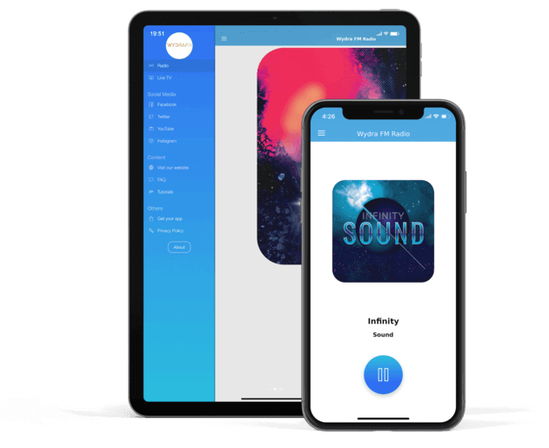 Our Android app allows your radio station to always be there for your listeners without being obtrusive. It takes little resource to run, plays in the background, goes on mute automatically when a call comes in, has an offline mode, even a dedicated button that will direct users straight to your website. Other features include an offline mode to allow your listeners to download selected podcasts, even news, and schedules, as well as cover art and stream info. There are other features as well, such as push notifications to keep them updated and social media buttons that allow your listeners to reach out to you quickly and while we're at it why not allow Admob Advertising so you can make some money too.
You can easily design and preview your App before you get it in the App Creator.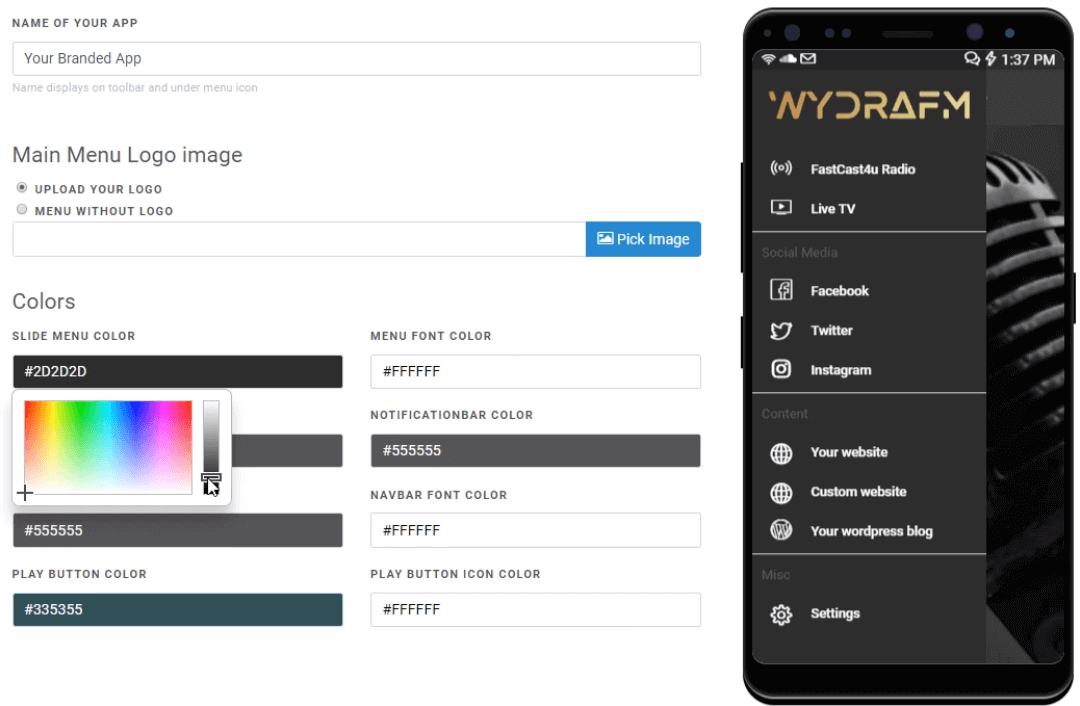 Together with your website, an app moves your radio station to the present by taking advantage of technology so easily available to almost everyone. It lets you reach new listeners and keeps your current ones engaged with you. Having an app for your radio station is one way to show that you are serious about reaching people. There's a lot of smartphones and tablets out there and having an app, tailor-made to your specifications means your brand now has an ability to potentially reach them all. Just one app and you can increase your listeners exponentially.