Would you like to create your own Internet Radio Station?
You need a Radio Server. Select one of our server plans and start broadcasting online today!
Monthly
Yearly (2 months free)
Looking for something different?
See more Server Plans and select one that fits your needs just right!
What makes our Internet Radio Packages and Service special?
Through over 10 years of providing hosting for Internet Radio Stations we learned what's crucial in broadcasting online.
And we're extremely happy to share our experience with you!
FROM 100 TO UNLIMITED LISTENERS
VARIABLE BROADCASTING BITRATE
LIVE BROADCAST AND AUTODJ
SHOUTCAST V2 AND ICECAST V2
MULTIPLE SERVER LOCATIONS
CHAT, PHONE AND EMAIL SUPPORT
CENTOVA CAST CONTROL PANEL
CENTOVA CAST CONTROL PANEL
Manage your Internet Radio Station using any web browser.
All Server Packages that we offer come with the latest version of
Centova Cast Control Panel.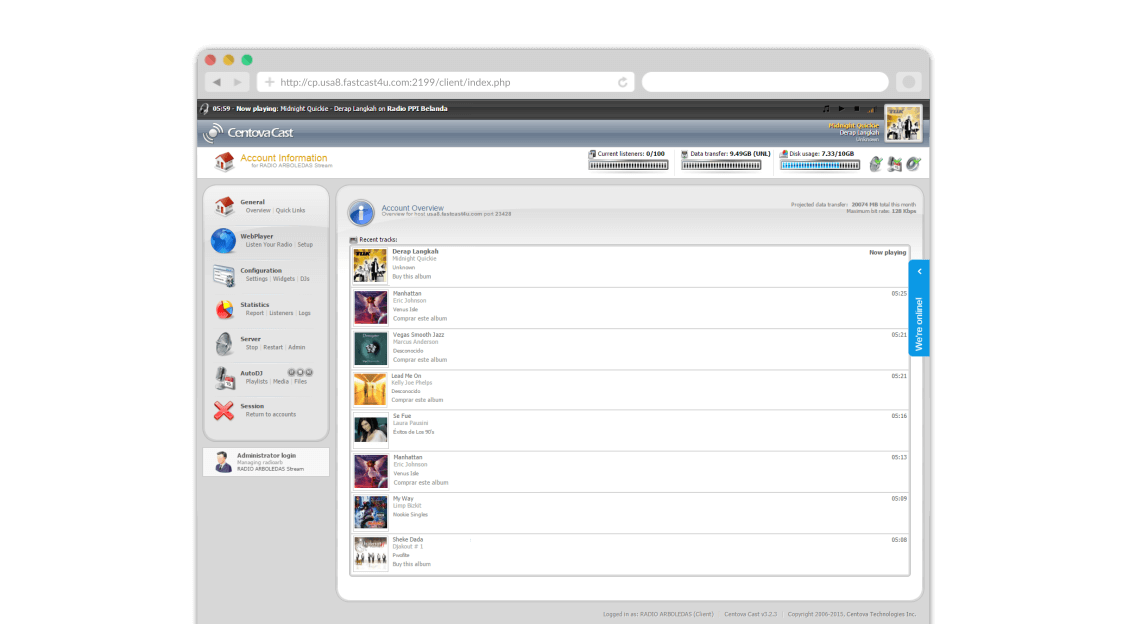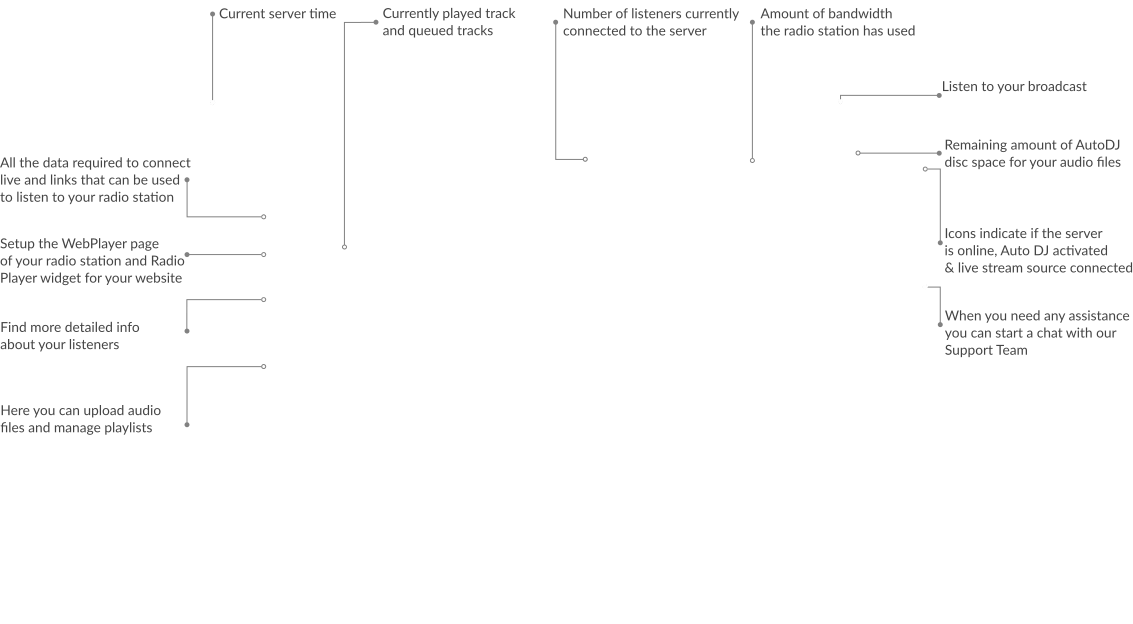 Are You interested in making a profit?
Join our Affiliate Program, Share a special link and earn a 25% commission for all services purchased by Your affliates.
JOIN NOW
Why FastCast4u?
Though over 10 years of providing Internet Radio Hosting we've had a pleasure to provide our Services and Support
to 37714 users from around the world. We asked them what they think about FastCast4u, and here's what they said...
These guys are the best! Doug Sinclair
The best Radio Server on the world !!! FAST CAST 4 YOU is the BEST !!!!!!! THANK you for the best Radio SERVER and Radio APP :* I LOVE YOU!!!!! (Y)
Sensacional. o melhor ,muito bom . seguro, confiavel, estável.
Fastcast4U has a wonderful team of technicians, always willing to help and give the best service they go beyond for their clients, i certainly do appreciate them all and is courteous and professional. i have 3 favourite tech's over at fastcast4u, i also have two mobile apps (Ip & And) Good Job!!! Guys you are the best.
I wanted to emphasize the great availability of support via Chat. as well as congratulate the Fastcast4u team for the quality of information and advice!
Choose server location
and billing cycle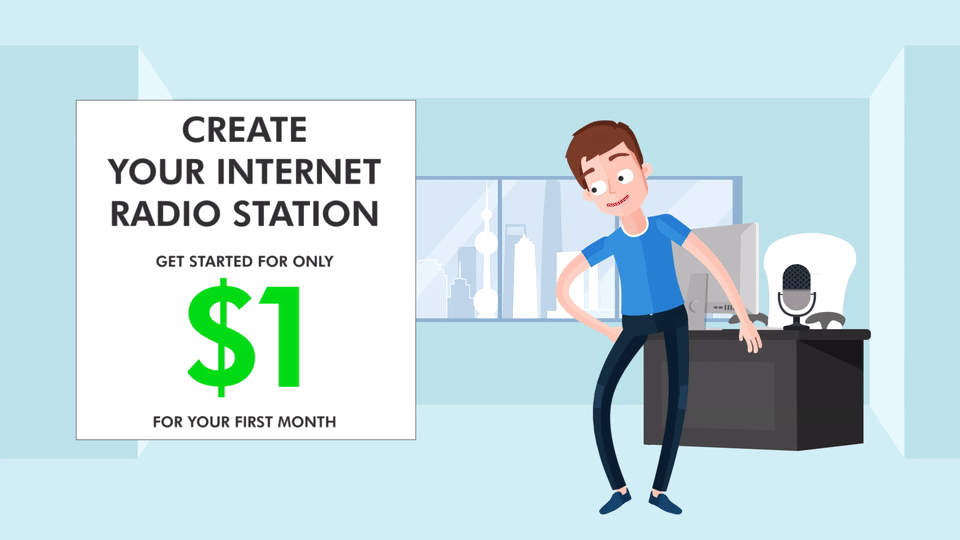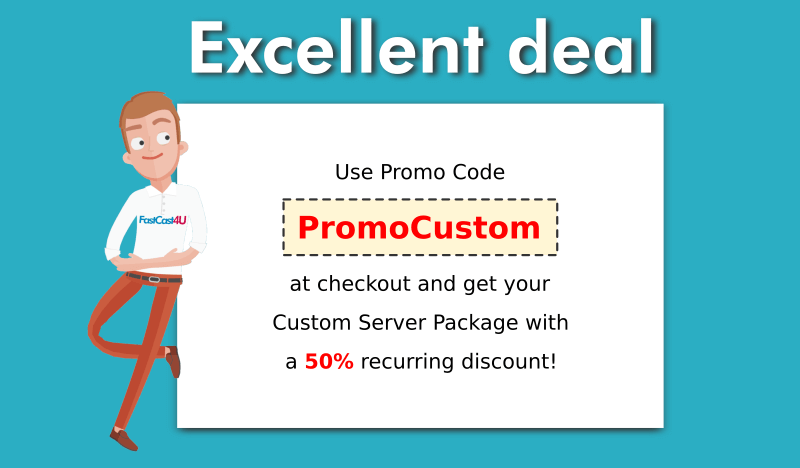 Free 7-DAY TRIAL
Start your Internet Radio Station within 3 minutes!
100% FREE. No payments or card details required.
European data center power outage
Due to a power outage in our European data center, selected machines may have been unavailable or still be unavailable.
The issue is global and causes a major disruption in the European nerwork and affected millions of websites and web based services hosted in European data centers.
You can check the status of your server here:
Network Status
Thank you!
Click at the verification link in the email to verify the e-mail address.

If you don't see the verification e-mail in your inbox, please check your Junk or Spam folders..